Gold Choker Necklace
A few Christmases ago, I was gifted with a gold chain necklace that had small green jewels on it.
I was in love with this necklace! I wore it every day no matter what the occasion was. Long story short.
I wore it in the ocean and it did not like the salt water :( I found some adorable blue jewels and thought that I would make my own version of it and just avoid salt water this time!
Supplies:
• Gold Chain 40cm
• 7 eye pins
• Necklace clasp
• 7 small blue gem beads
Tools:
•Wire Cutters
•Bent Nose Pliers
•Round Nose Pliers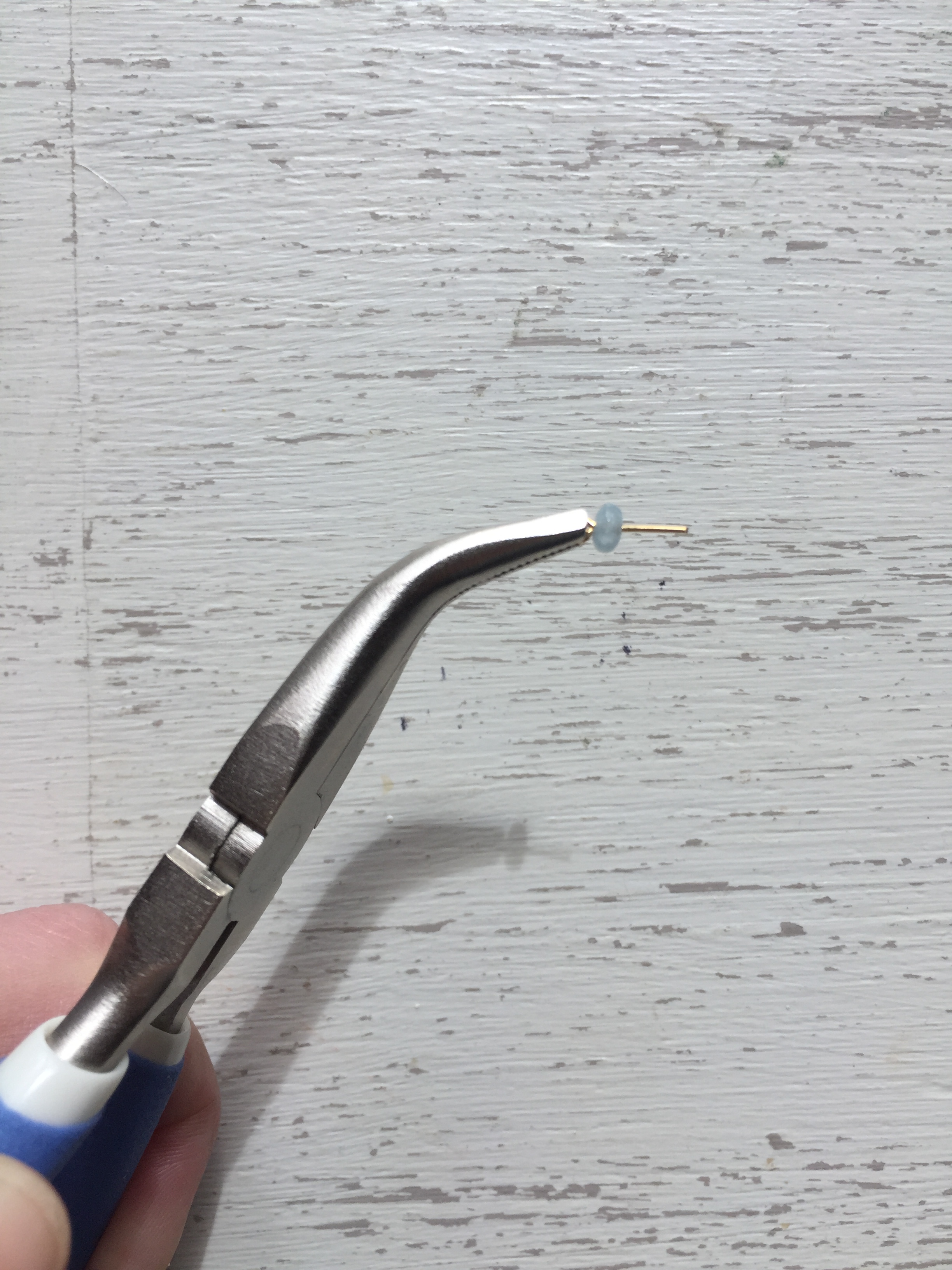 Cut he eye pin 3mm from gem
First you are going to want to measure how long you want your necklace to be. Mine is 40 cm because I wanted it to sit right on my collar bone. It is entirely up to you and what length you are going for.
Once that is done, you can go ahead and start to prep your gems. Slipping one gem down the length of the eye pin, make a cut 3mm from the end of the gem. Curl slightly with round nose pliers so gem doesn't slide off. Repeat for as many gems as you would like to have on the necklace. I chose to go with 7, everything looks better in odd numbers.
Once you have finished prepping the gems, you can figure out how you want to space them on the chain. I went with 5cm between each. Looking at it now I probably would have done 4cm but I'm still super happy with the end results.
I went ahead and cut the chain after i measured all the gems. It made it much easier to assemble everything in the end (I just had to make sure no strong wind blew everything on the floor).
Slip chain through eye pin
Once everything is cut, you can start by opening the eye pin slightly and slipping the chain through it. Pinch it closed. Repeat on the other side and with remaining gems. I found that laying it flat while I pinched it closed was significantly easier then holding it in the air.
When all the chain and gems have been attached you can go ahead and add the jump rings for the clasp. Once you are done, check the length to make sure that it is sitting where you want it to. If too long, remove the jump rings and cut with wire cutters. If too short, add a few jump rings to each end.